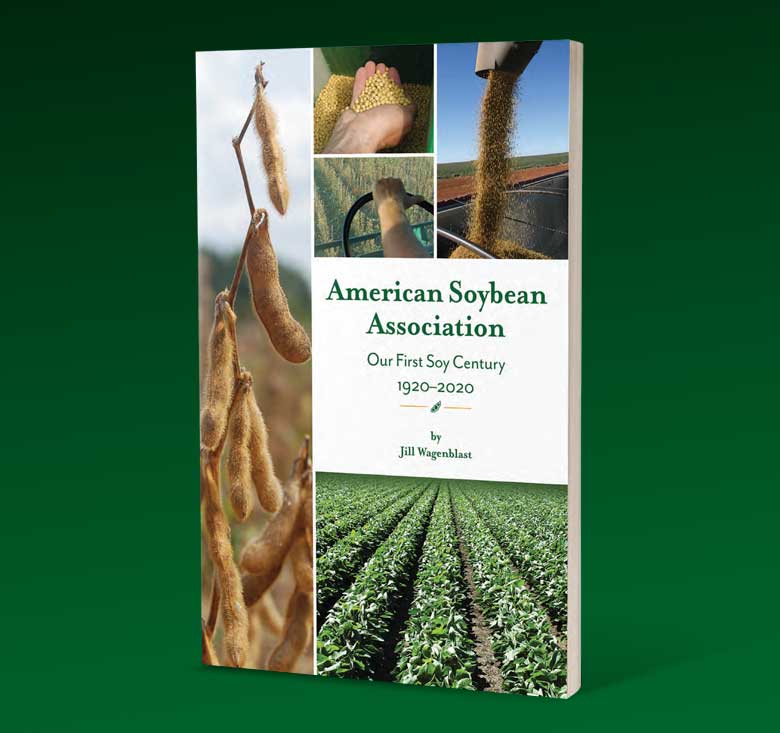 ---
Order a complimentary copy of American Soybean Association: Our First Soy Century 1920 -2020
American Soybean Association: Our First Soy Century 1920 -2020
AS ASA CELEBRATES ITS ONE HUNDREDTH ANNIVERSARY, THIS BOOK TELLS THE STORY OF ITS LIFE AS AN ORGANIZATION DEDICATED TO SOYBEANS AS A CROP AND THE FARMERS WHO GROW THEM. DURING ITS ONE HUNDRED YEARS, ASA HAS STOOD AT THE FOREFRONT OF BUILDING A US SOYBEAN INDUSTRY THAT IS STRONG AND ECONOMICALLY VITAL TO OUR COUNTRY.
This attractive 80-page softcover publication chronicles the American Soybean Association's unique history. The story begins with a group of early soybean pioneers and supporters who decided on September 3, 1920, on a farm near Camden, Indiana, to form an organization that could help turn the promise and potential they saw in soybeans into a reality for America's farmers.
During its one hundred years, the American Soybean Association has conducted pioneering work in education, promotion, research, and policy for soybeans and soybean farmers. ASA has been instrumental in the phenomenal growth of soybean production, distribution, and utilization, including the creation of a global export market for US soybeans from the ground up. Don't miss your opportunity to engage with ASA's history. Order a free copy today—quantities are limited!
Fill out the form below for your complimentary copy.